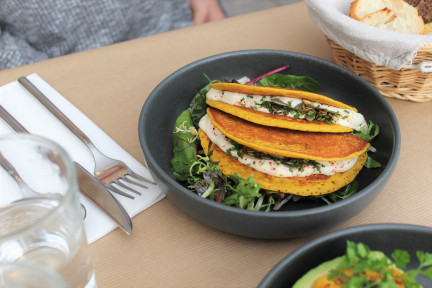 It's almost as far away from me as you can get while still being in Paris, which makes it difficult to get to on a regular basis. If it was in my neighborhood, I assure you it would be a restaurant I would frequent regularly.
The first time we came, I fell in love with the rice and chickpea crepes, doused in a creamy sauce that would easily trick a non-vegan into thinking they are eating dairy. They also have their own spin on deviled eggs, made with avocado and hummus, and while they didn't taste exactly like eggs, they were fantastic.
On sundays, they have an excellent brunch, which consists of one hot drink (don't miss out on the hot chocolate!), one smoothie of fresh juice, two small plates, one small bowl of delicious granola and almond or soy milk, and pancakes smothered in sweet toppings. For Michael and I, we ordered one brunch, which is meant for one person but we shared it, and ordered two other dishes. One was a sweet potato puree, which I highly recommend, and the other was the crepes that I loved so much from our first visit.
Everything was very fresh and of high quality. The people working there were nice and attentive. The restaurant itself is cute, with fresh herbs growing on the windowsill. Basically, you have to try it out if you have the opportunity. Even if it is far from where you live, it's worth the trek. Make sure to make reservations for Sunday brunch, as it seems to fill up.