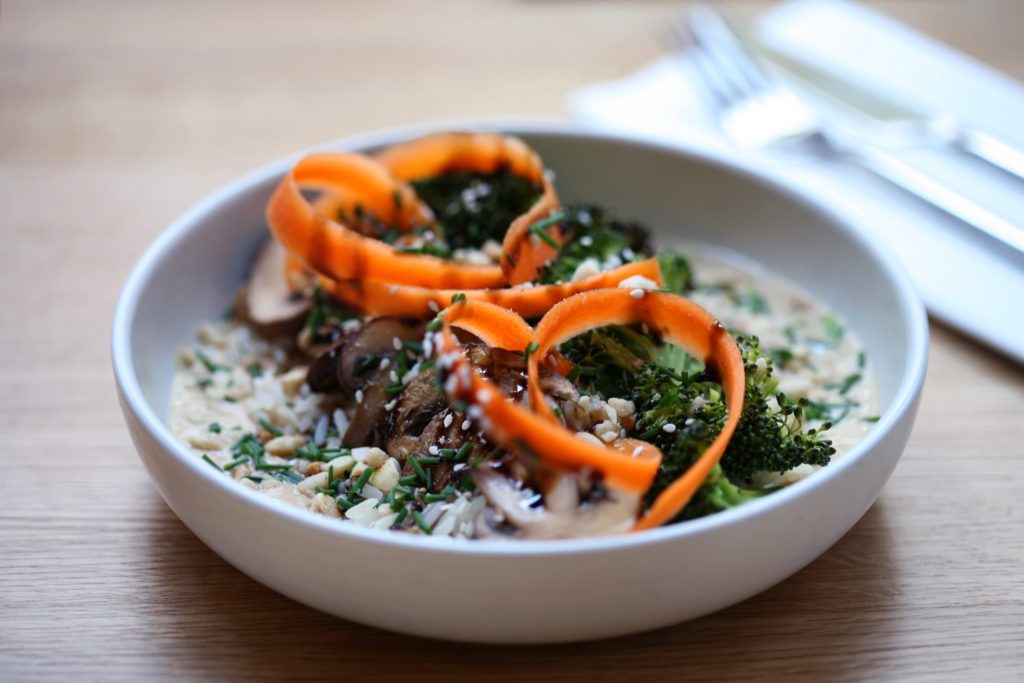 Rice vermicelli with tamari, roasted mushrooms and broccoli, red radish, roasted peanuts, sesame and chive. Courtesy of Le Potager de Charlotte
For anyone following the Parisian food scene, it's no secret that there's something of a vegetarian and vegan revolution underway in the city. As little as three or four years ago, my spouse and I struggled to find non-carnivorous fare beyond boring hot goat's cheese salads and delicious, but oh-so-repetitive, mushroom omelettes (choices that, of course, are completely useless for vegans).
Now? The choices available are almost overwhelming.
And while I'm more of a flexitarian who adores good fish but rarely eats meat, the transformation is one I wholly applaud.
If this mini-revolution in a city famous for its disdain of vegetarianism seems driven (from anecdotal evidence) more by rising environmental concerns and health-consciousness, these seem like good enough reasons to me.
I recently set out on a quest to eat my way through some of the newer veggie and vegan places in the capital (check back here soon for a list of our favorites). This took me to Le Potager de Charlotte, an all-vegan restaurant nestled between Montmartre and the Grands Boulevards districts.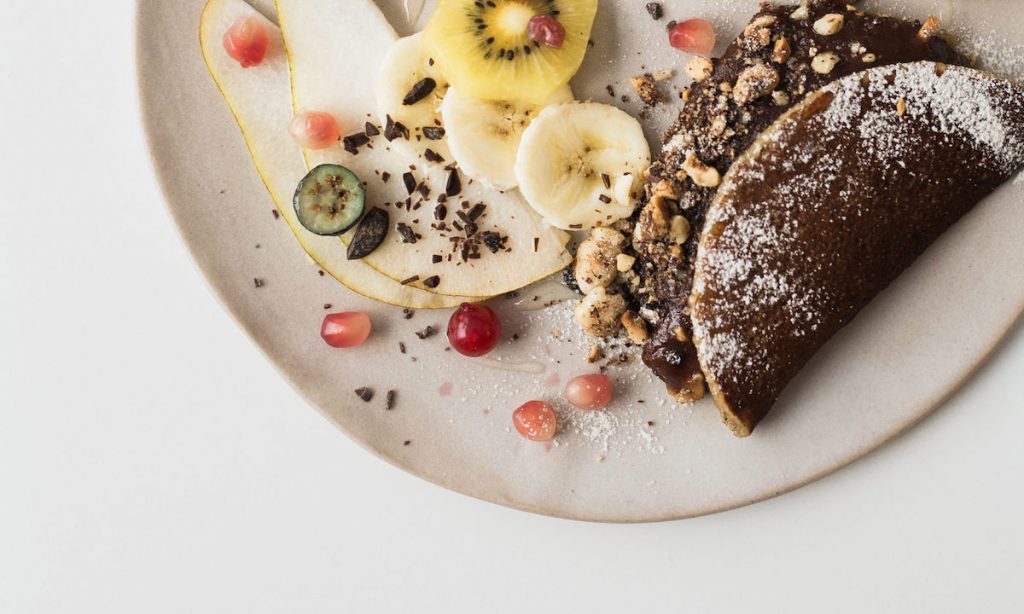 Sweet vegan dessert pancakes with chocolate, walnuts, fresh pear, banana and pomegranate seeds at Le Potager de Charlotte. Image: Courtesy Le Potager de Charlotte
Opened in 2015 by two young brothers who go simply by David and Adrien, the restaurant is named after the pair's mother, Charlotte.
Their objective was to open a restaurant focused on seasonal cuisine, free of all animal products and mostly made with organic and gluten-free ingredients.
I visit on a warm summer afternoon for lunch. The brightly decorated, modern dining room is sunny and casual, with lots of booth seating and a scent of fresh carrots and fruit lingering in the air, no doubt from the homemade pressed juices and smoothies made onsite to order.
A Fresh Start: Fennel & Cucumber Gazpacho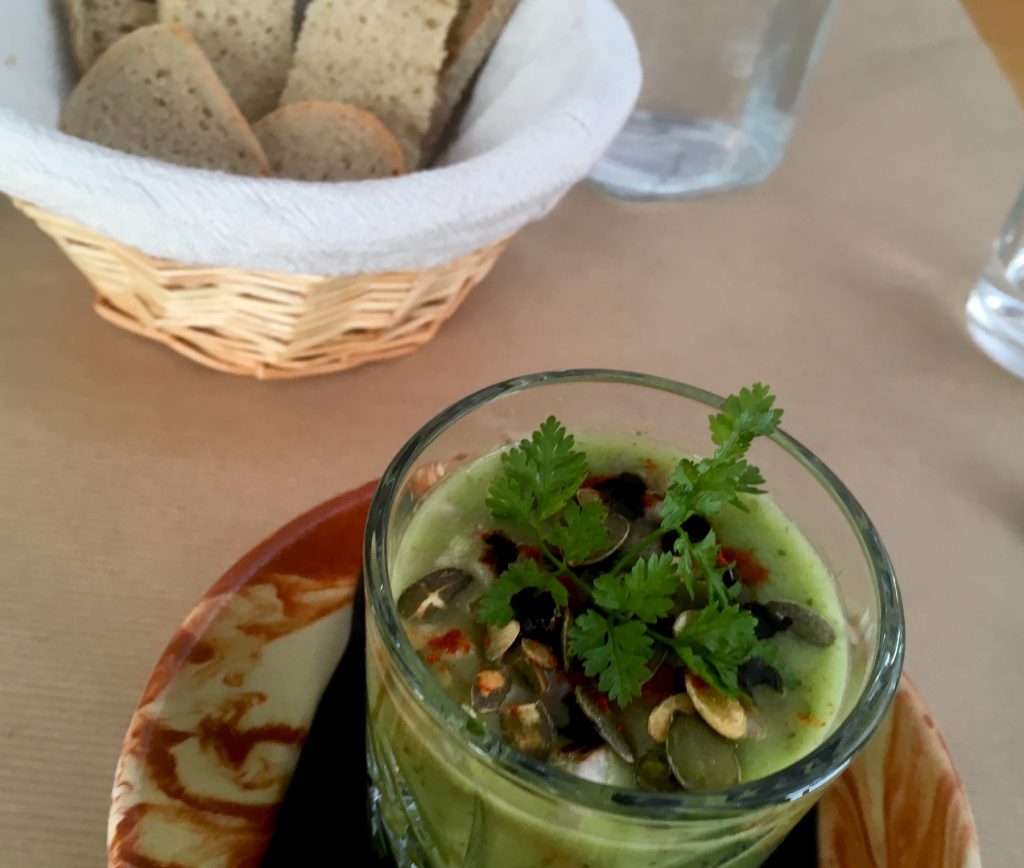 Cucumber and fennel gazpacho at Le Potager de Charlotte. Image: Courtney Traub/All rights reserved
With an exhausting heatwave blanketing the city on the day of my visit, the prospect of a chilled soup is more than attractive.
Lunch begins with a cold cucumber and fennel gazpacho, artfully topped with pumpkin seeds and coriander as well as some sort of chili.
The cooling combination of cucumber and fennel is immediately refreshing, and the pumpkin seeds add nice texture to the soup. Crusty bread accompanying it (not gluten-free, for those who are intolerant) only increases the delight.
Second Course: Creamy & Satisfying Galettes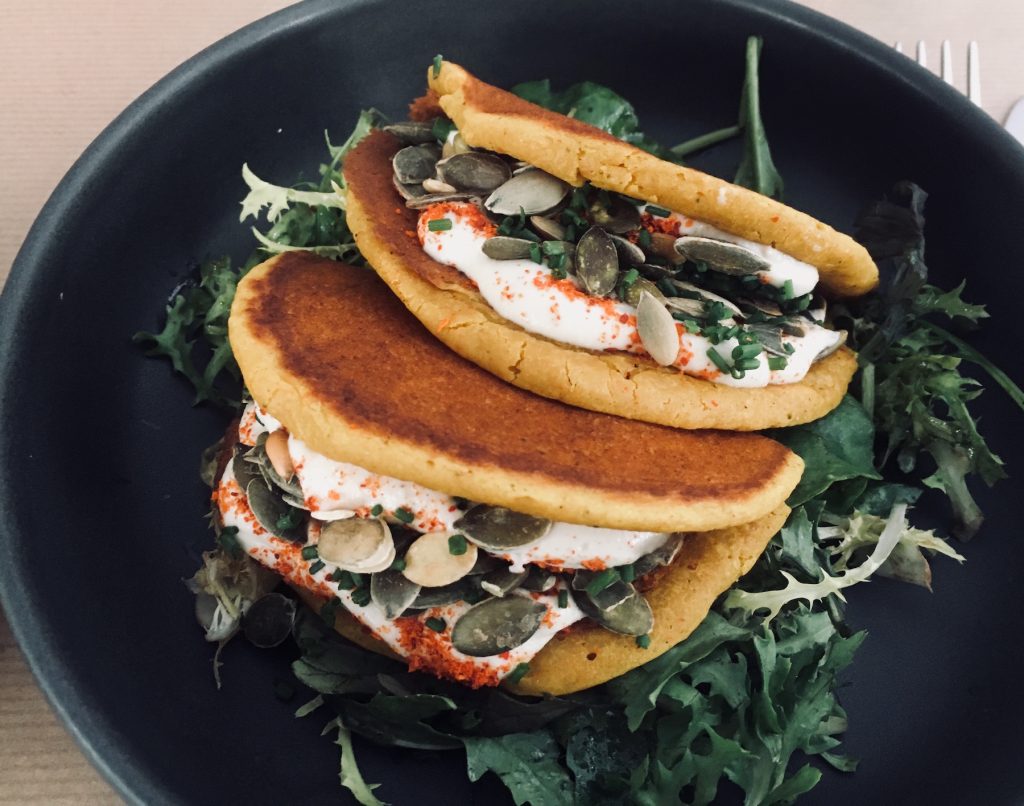 Rice and chickpea galettes/pancakes with cashew cream, pumpkin seeds, arugula, herbs and spices including espelette pepper. Image: Courtney Traub/All rights reserved
For my main course, I've chosen one of the items on the starters menu, since it looks quite substantial: rice and chickpea galettes (savory crepes or pancakes) filled with herbed cashew cream, more pumpkin seeds, greens and Basque espelette pepper. Clearly, the chefs enjoy using pumpkin seeds. I'm just glad I like them, too.
Remarkably substantial and filling for a starter, the filled pancakes had plenty of flavor, and against my expectations weren't even remotely dry, with a pleasingly springy texture you'd associate with the presence of eggs. Often, vegan pancakes can be too dense and stodgy for my tastes. These ones weren't.
Dessert: Chocolate Mousse With Torrefied Hazelnuts & Coconut Cream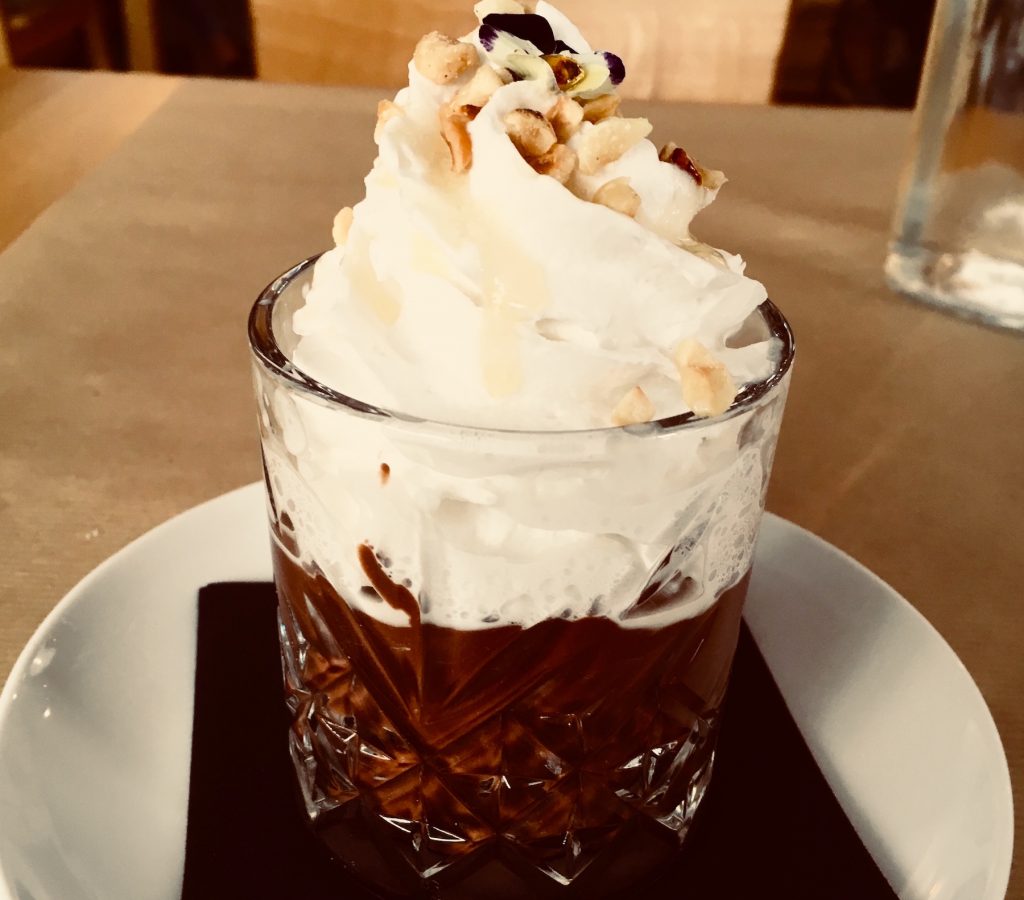 Vegan chocolate "cream" topped with coconut cream and torrefied hazelnuts. Image credit: Courtney Traub/All rights reserved
I'd heard that the desserts at the Potager de Charlotte were superb, so despite being rather full I decided I'd need to try one. I settled on the vegan chocolate "cream" (a dense mousse), crowned with a generous dollop of coconut cream and torrefied hazelnut bits.
It was delicious, but I could have done with a bit less of the coconut cream. I felt that it overwhelmed the chocolate a little.
Other Dishes & Brunch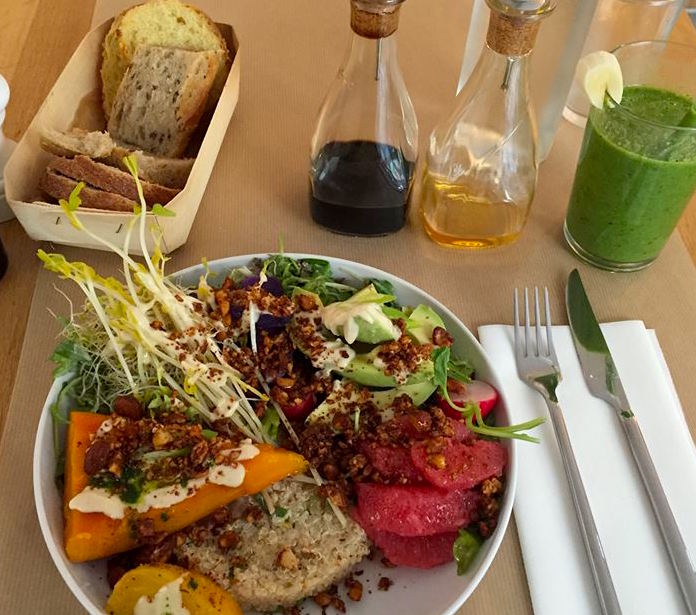 A raw "supersalad" at Le Potager de Charlotte, accompanied by a fresh-pressed juice. Image: Official FB page
In addition to the dishes I tried, the seasonal menu featured a variety of raw "supersalads" featuring nice medleys of grains, fruit and vegetables; fresh juices and smoothies, and a rather decadent, generous brunch menu that I'm itching to go back and try. You can see their current menu here (in English).
To accompany the fare, there's a large selection of (mostly-organic) wines, beers and ciders alongside the nonalcoholic drinks.
The Service
The server was friendly and engaging, and she spoke fluent English with the patrons at the next table. Overall, the approach here is down-to-earth and accessible, and the waitstaff always seemed happy to answer my questions and make suggestions.
Any downsides?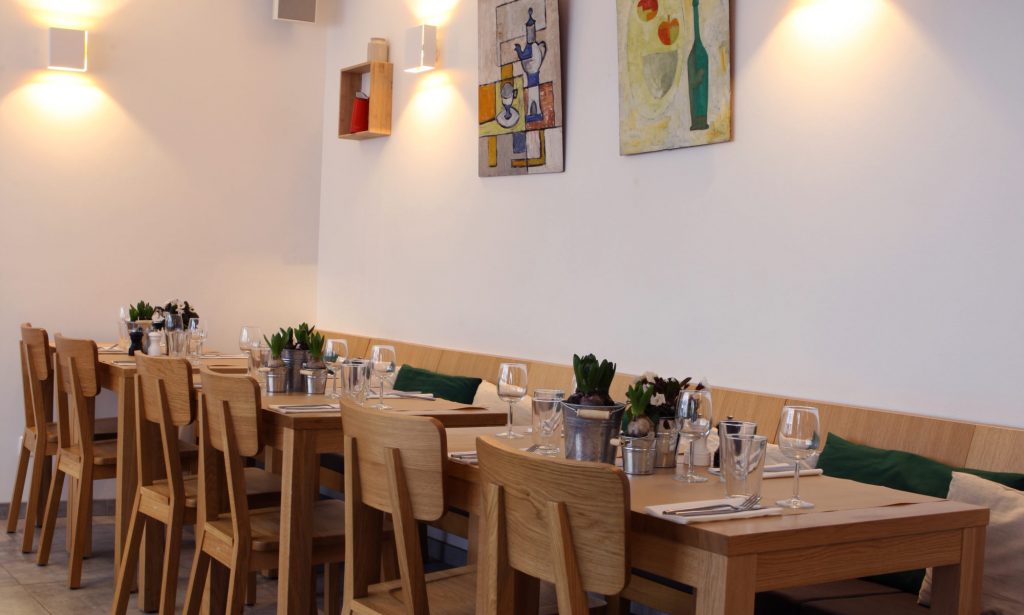 Le Potager de Charlotte
Image credit: Courtesy of Le Potager de Charlotte
One thing that I do find slightly frustrating about this restaurant are their odd and inconsistent hours. Lunch is only served on Friday and Saturday, and since it's closed on Monday and Tuesday and only open for brunch on Sunday, it can be a bit tough to find the right moment for a meal here.
Still, those who are determined to sample its many delights can be assured that it's worth making time in your schedule for– according to me, at least.
I also felt that Le Potager's menu could be improved by expanding its selection of hot main dishes. It's somewhat expected that vegan restaurants would feature a preponderance of salads and raw dishes, but particularly in the winter, warmer selections would be welcome.
A cursory look at the current (autumn) menu shows a butternut squash soup, rice vermicelli with tahini and broccoli, and a few other dishes, so it's safe to assume that the seasonal menus shift in accordance with reigning temperatures.
https://www.parisunlocked.com/food/le-potager-de-charlotte-simple-flavorful-vegan-cuisine-in-paris/