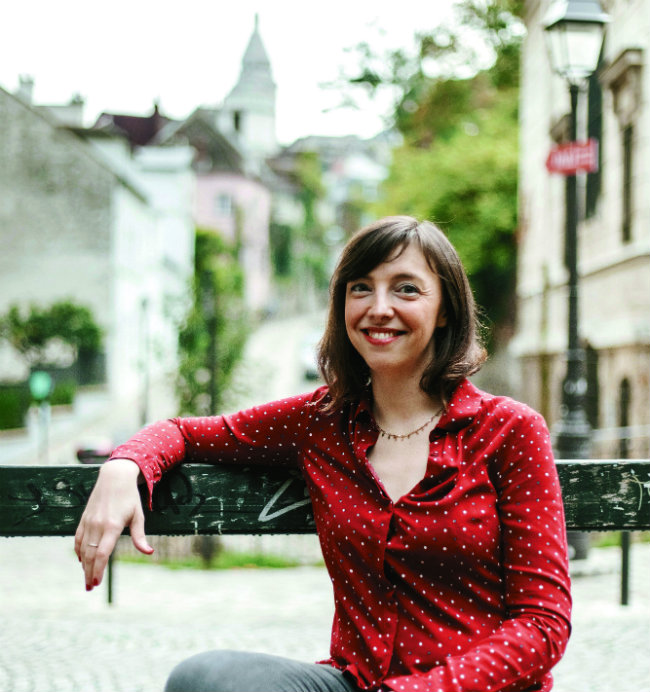 Author Clotilde Dusoulier Photo: Fabien Courmont
Ready to master the classics and cook like a bona fide Parisien(ne)? Clotilde Dusoulier's easy as tarte recipes will put a welcome French twist on your next dinner party. Excerpted, with permission of publisher Clarkson Potter New York, from Tasting Paris: 100 Recipes to Eat Like a Local by Clotilde Dusoulier. Photography © Nicole Franzen. Purchase the book on Amazon below:
DEVILLED AVOCADO
Serves 8
Paris used to be a hostile place for vegetarians – let alone vegans. Outside of a handful of vegetarian restaurants, waiters and chefs had no idea what plant-based eating was about. Restaurant menus were devoid of meat-free options, and vegetarians had to settle for a hodgepodge of sides or a bowl of soup.
The Paris food scene experienced a historic shift toward vegetables around the turn of the 21st century. Chef Alain Passard led the charge with a disruptive all-vegetable menu served at his three-star restaurant. It is now common to find inspired vegetarian courses at contemporary bistros, and the city is peppered with restaurants devoted to plant-based dining, the kind where you can take your omnivore friends and not have them notice the absence of meat. Chief among them is gastro-vegan restaurant Le Potager de Charlotte, where a signature appetiser is the avocat façon oeuf mimosa, a "devilled egg" avocado with turmeric-yellow hummus taking the place of the mashed yolk, and toasted squash seeds for crunch. I serve a bunch of them on a platter, with spoons for eating, for brunch; they look so appetising and are always the first item to disappear.
INGREDIENTS
1 (15 oz/400g) can or jar chickpeas, rinsed and drained (see note below)
2 teaspoons tahini
1 garlic clove
1 teaspoon ground turmeric
Fine sea salt
1⁄4 teaspoon freshly ground black pepper
2 tablespoons freshly squeezed lemon juice, or more to taste
2 tablespoons olive oil
4 avocados (6 oz/170g each), halved and pitted 1 teaspoon smoked or regular paprika
Fleur de sel, for serving
1⁄2 cup (115g) squash seeds, toasted
3 tablespoons finely chopped chives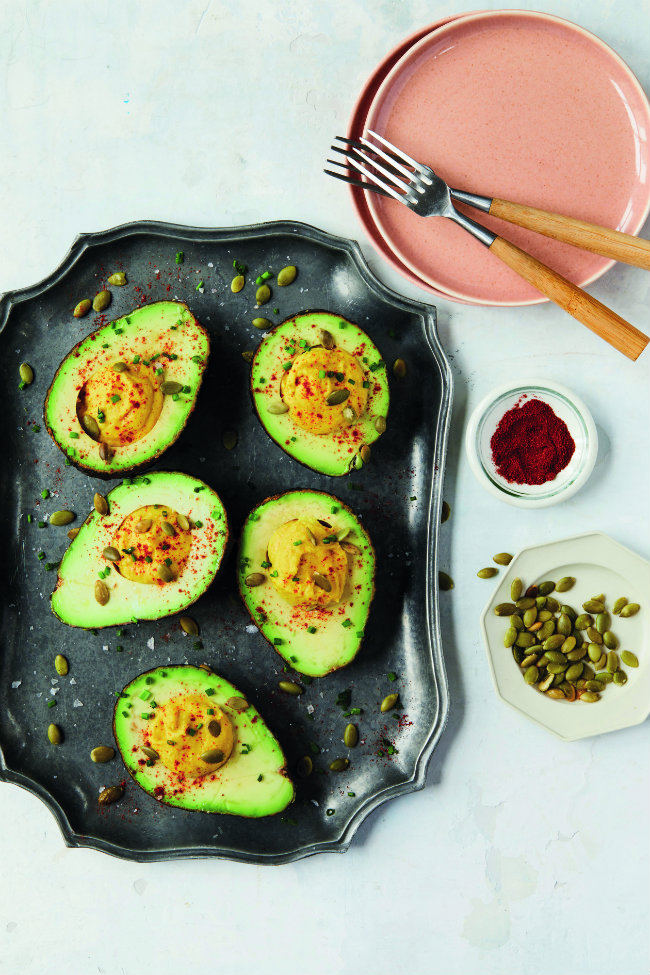 Devilled avocado. Clotilde Dusoulier's Tasting Paris. Photography © Nicole
Franzen.
Note To use home-cooked chickpeas, you'll need 11⁄3 cups (240g). Soak 1⁄2 cup (110g) dried chickpeas overnight and cook in a saucepan of boiling water until cooked through and tender, about 1 hour. Drain well.
1 In a food processor, process the chickpeas, tahini, garlic, turmeric, 1 teaspoon salt, the pepper, lemon juice, oil, and 3 tablespoons water until smooth. Add a little more water, tablespoon by tablespoon, as needed until creamy but still scoopable. Taste and add more salt or lemon juice as needed.
2 Scoop 2 rounded tablespoons of hummus into each avocado 'hole', as for devilled eggs.
3 Arrange on a serving platter. Sprinkle with the paprika, fleur de sel, squash seeds, and chives.