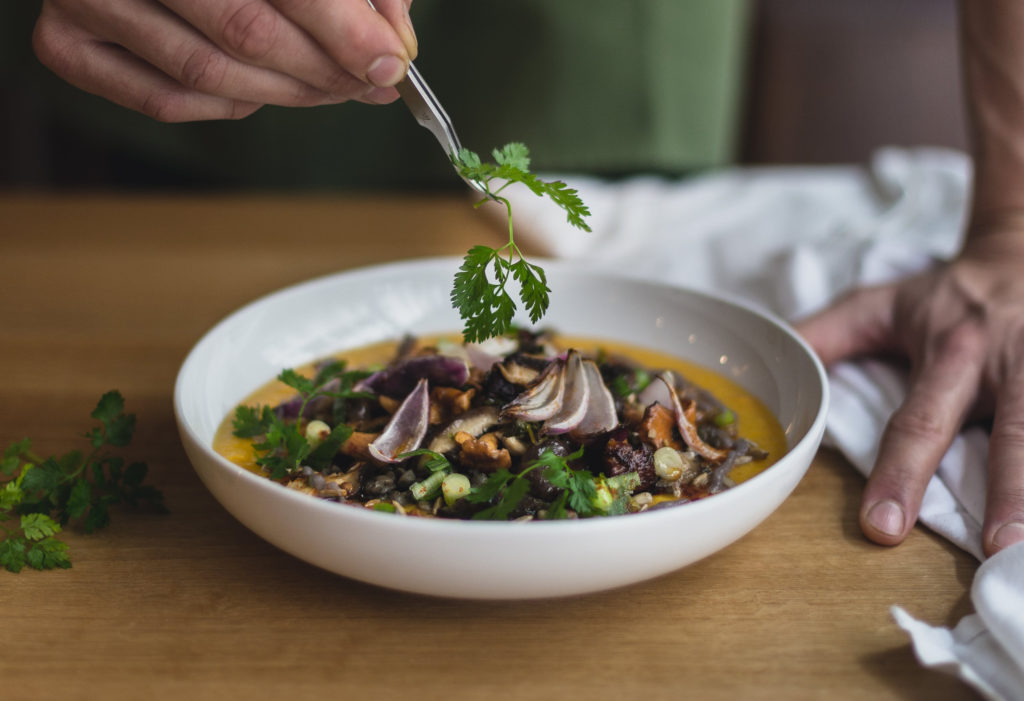 The 9th arrondissement of Paris has always been known for its opulent theatres and opera houses. But now it's forging a new fiercely eco-friendly identity as Paris' "Veggietown,"revolutionizing traditional recipes with cashews, coconuts, and avocados in abundance.
Le Potager de Charlotte (12 Rue de la Tour d'Auvergne, 75009) is a fabulous vegetarian restaurant in the 9th arrondissement, serving up seasonal and local produce in innovative ways, all 100 % vegetarian and homemade.
Rice and chickpea pancake / Cashew cream and chives
One of their most creative starters is the "rice and chickpea pancake," complimented by espelette pepper and roasted squash seed. This starter is topped with fresh chives and cashew cream—an ingenious veggie use of cashew nuts.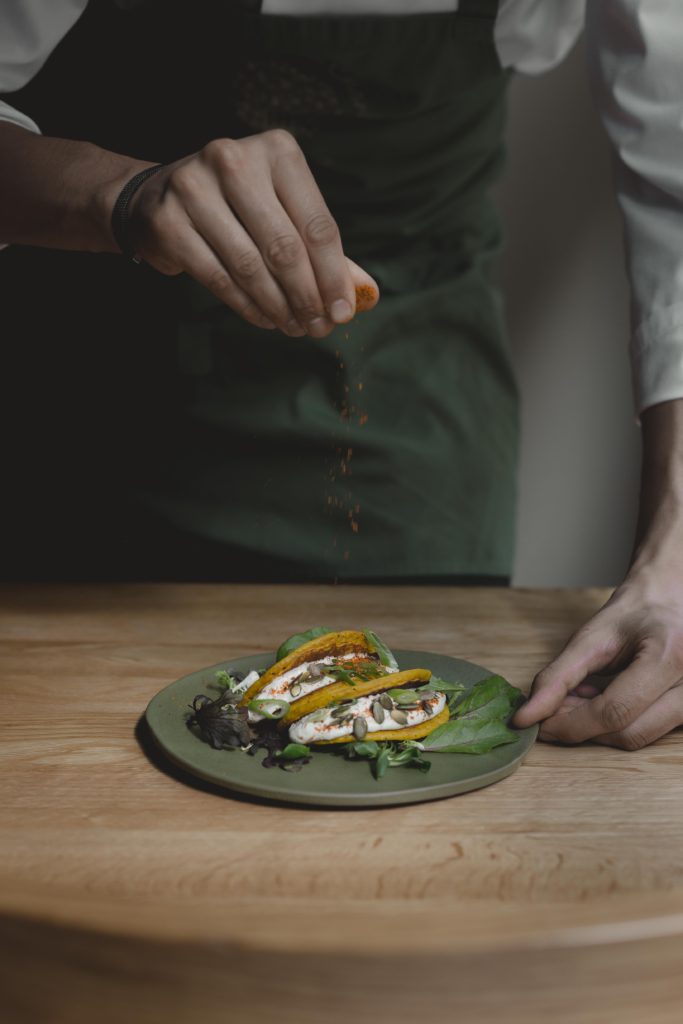 Photo © Marine Chapon
Not only do vegan-friendly cashews have a lower fat content than most other nuts— approximately 82% of their fat is unsaturated fatty acids—but studies show that when added to a low-fat diet, they can help to reduce heart disease, and are especially good for people with diabetes.
Avocado sliced "egg style"
The traditional sliced egg is replaced with sliced avocado in this vegetarian menu, the avocado's green fruit replacing the egg white around what would traditionally be the egg yolk. The smooth fruit is then layered with a delicious helping of hummus and the tang of turmeric. The design is similar to another of their popular starters, the "roasted carrot" spiced with Cremona mustard, cumin, and paprika.
Photo © Marine Chapon
Green lentil / Butternut squash cream
When you finally get to the main course, you should try the green lentil dish topped with grilled wild (handpicked) mushrooms, and smothered in "butternut squash cream."
This restaurant is a big fan of butternut squash, as well the sweet potato. And while a side dish of plain mashed potatoes hardly sounds very enticing, here you can try sweet potato mash topped with Tamari cream, sweetened with sun dried tomato, then finished with roasted peanut and fresh cilantro.
If this isn't enough to tempt your tastebuds, then the caramelized red onion accompaniment sprinkled with roasted sunflower seed and fresh chervil should definitely do the trick.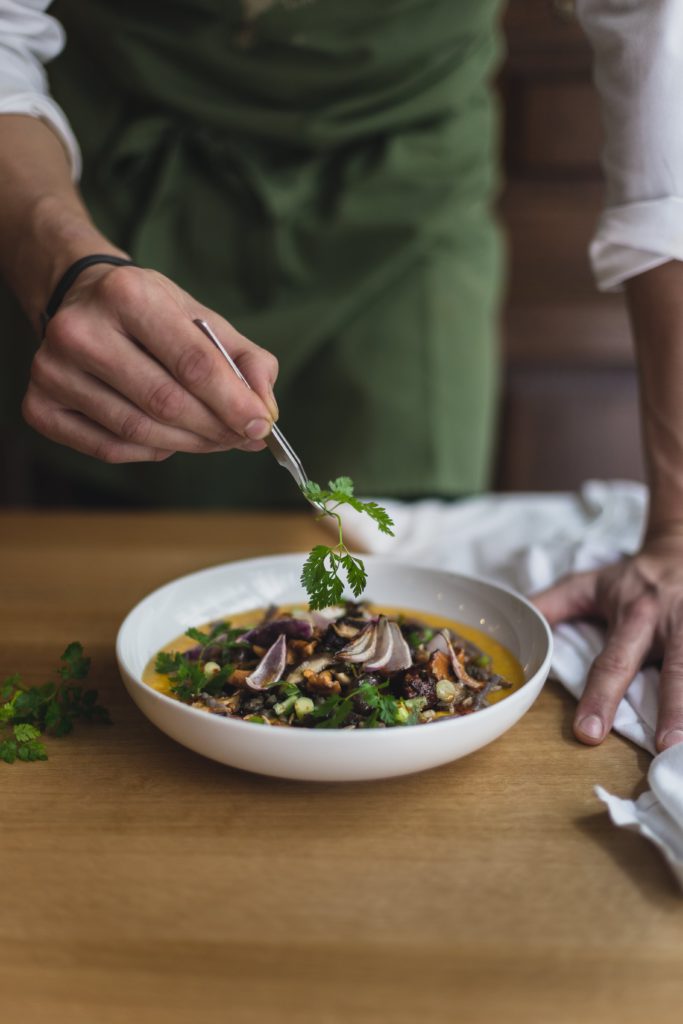 Photo © Marine Chapon
Red quinoa salad
Never has a side dish of salad been more enticing than the red quinoa salad, packed full of the fruity experimentation of red pear and dry grape, sprinkled with pea seeds, fennel, and grilled hazelnut.
Cashew and lemon cream dessert
One of their most popular desserts is the cashew and lemon cream delight, dribbled in blueberry syrup and goji berries. The dessert is fierce proof that buckwheat can be used in any dish—starter, main, or dessert—here being grilled. They also have other desserts, like chocolate cream, topped with roasted hazelnut, and coconut chantilly.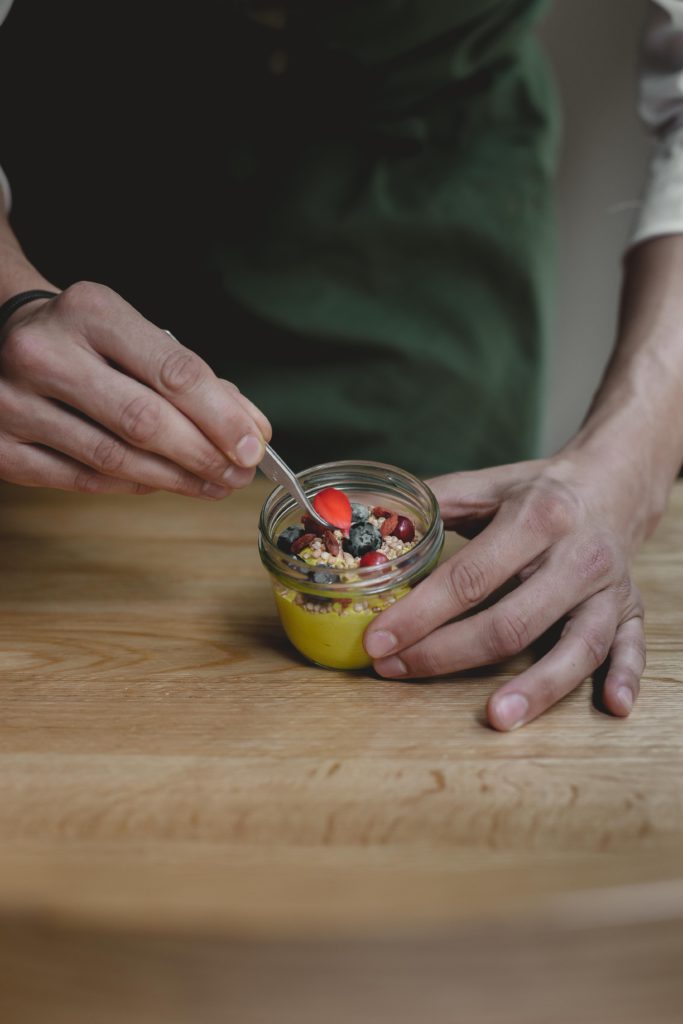 Photo © Marine Chapon
Coconut milk yogurt
This coconut milk yogurt is drizzled in a tangy fresh mango sauce, dappled with sesame seeds, and finished with raspberry and lemon zest. As well as being vegan friendly, it is said that consumption of coconut milk can help protect the body from infections and viruses.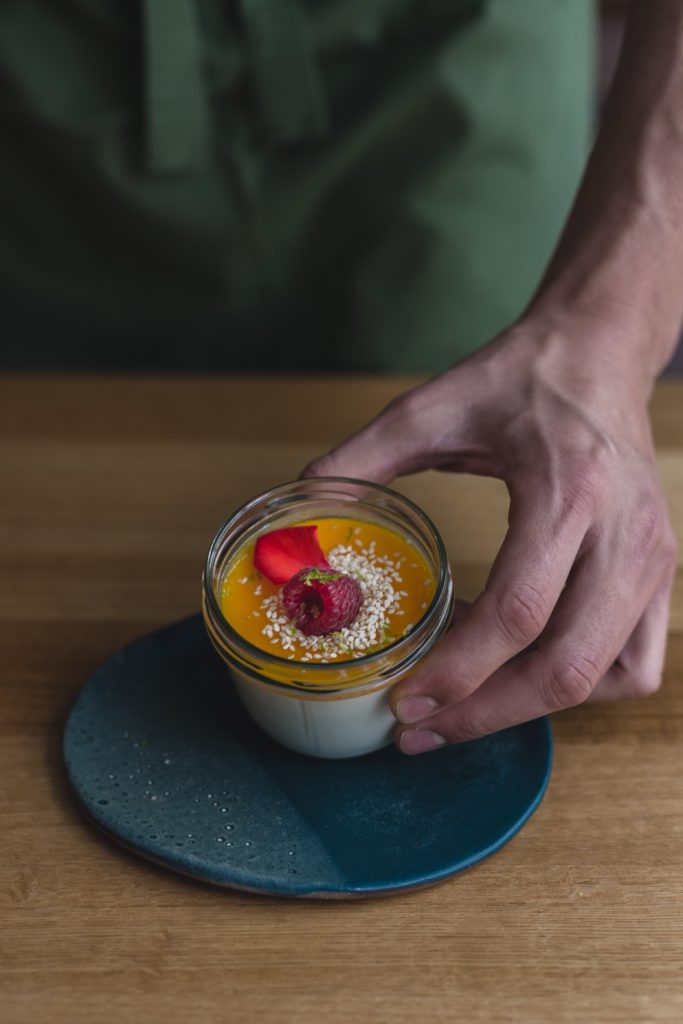 Photo © Marine Chapon
Jade Cuttle studied French and Russian at University of Cambridge. She has written for The Times and The Sunday Times and tweets @JadeCuttle.
https://theculturetrip.com/europe/france/paris/articles/how-this-parisian-district-is-starting-a-veggietown-revolution/